Longstreth Wilbert of Galion, Ohio is a company dedicated to the manufacture and delivery of Wilbert concrete burial vaults, as well as caskets and memorials. It is our mission and goal to use the finest materials in our manufacturing process and to provide the utmost service in delivery and cemetery setup possible. Products include burial vaults and urns, as well as keepsakes, memorialization, and caskets. In addition to burial personalization options, Longstreth Wilbert offers services for set up, tent, chairs and relocation/transfer.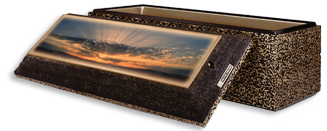 Personalization
We offer many options to personalize the burial vault like emblems and images that tell the story of your loved ones personalities and life.
Friends and families can also leave lasting thoughts by writing a poem or scripture verse, tracing the outline of their hand, drawing a picture or just leaving a simple signature on the cover of the vault.
View our Monuments